Материнская плата асус стрикс b250

Материнская плата Asus Strix B250F Gaming на чипсете Intel B250: игровая модель семейства Asus ROG для компьютеров с одной видеокартой
Мы уже рассмотрели несколько плат серии Asus Strix последнего поколения, которые входят в игровое семейство ROG, однако до сих пор это были платы на топовом чипсете Intel Z270. Между тем, в серию Asus Strix входят платы и на более простых чипсетах (с более скромными возможностями). Теперь дошла очередь и до них. В этой статье мы рассмотрим игровую и, что самое главное, недорогую плату Asus Strix B250F Gaming на чипсете Intel B250.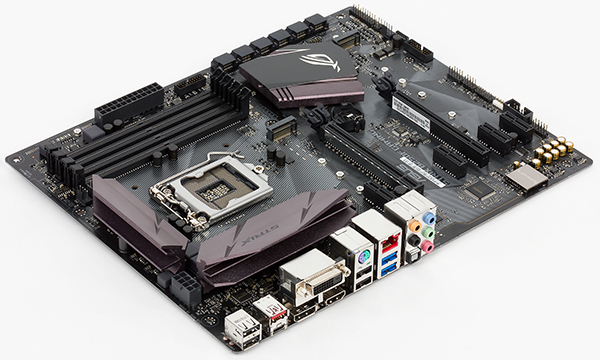 Комплектация и упаковка
Плата Asus Strix B250F Gaming поставляется в компактной по размерам коробке, типичной для серии Strix, на которой традиционно расписаны все особенности платы.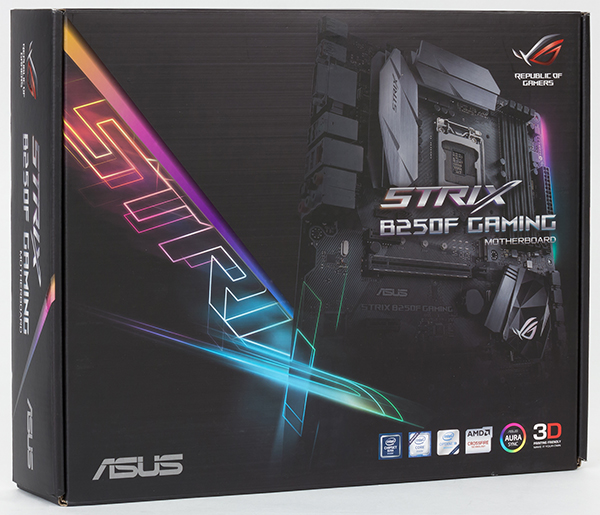 Комплект поставки довольно скромный, что вполне логично, поскольку плата не относится к топовому сегменту. В коробке находится инструкция пользователя (только на английском языке), DVD-диск с программным обеспечением и драйверами, заглушка для задней панели платы, четыре SATA-кабеля (разъемы с защелками, два кабеля имеют угловой разъем с одной стороны). Еще есть кабель RGB Header, стикеры для SATA-кабелей и крепежные винтики для моддингового аксессуара, выполняемого на 3D-принтере. А вот подставку под пивную кружку, увы, не положили (обычно такую подставку кладут в комплект плат семейства ROG).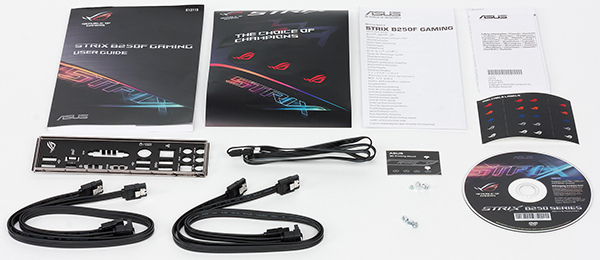 Конфигурация и особенности платы
Сводная таблица характеристик платы Asus Strix B250F Gaming приведена ниже, а далее по тексту мы рассмотрим все ее особенности и функциональные возможности.
Поддерживаемые процессоры
Форм-фактор
Плата Asus Strix B250F Gaming выполнена в форм-факторе ATX (305×244 мм), для ее монтажа в корпус предусмотрено девять стандартных отверстий.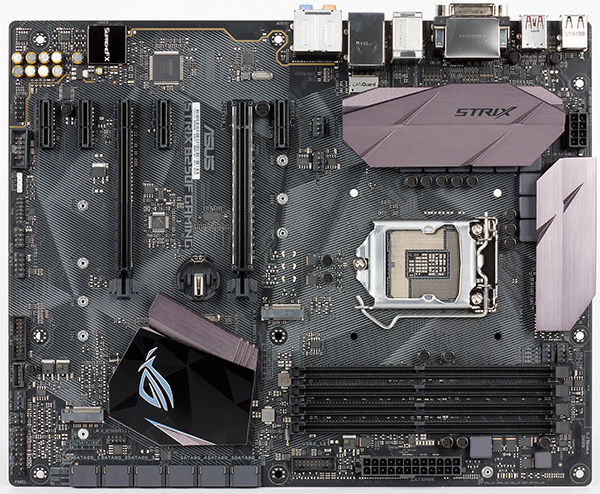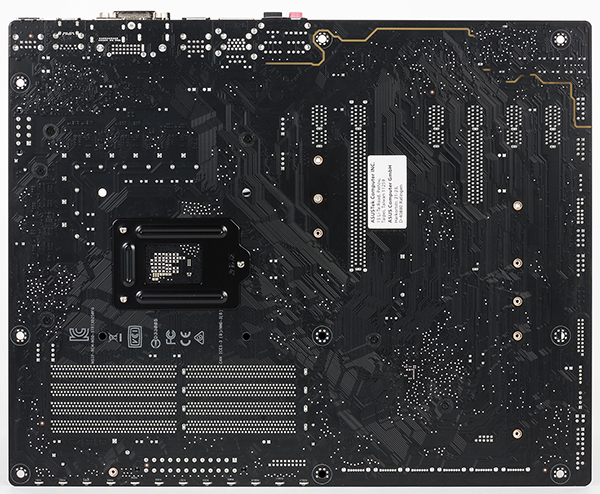 Чипсет и процессорный разъем
Плата Asus Strix B250F Gaming основана на чипсете Intel B250 и поддерживает только процессоры Intel Core 7-го и 6-го поколений (кодовые наименования Kaby Lake и Skylake) с разъемом LGA1151.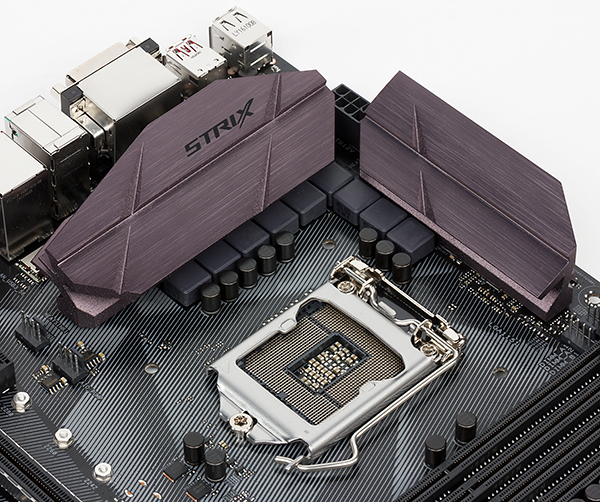 Память
Для установки модулей памяти на плате Asus Strix B250F Gaming предусмотрено четыре DIMM-слота. Плата поддерживает небуферизованную память DDR4 (non-EСС), а максимальный объем памяти составляет 64 ГБ (при использовании модулей емкостью по 16 ГБ).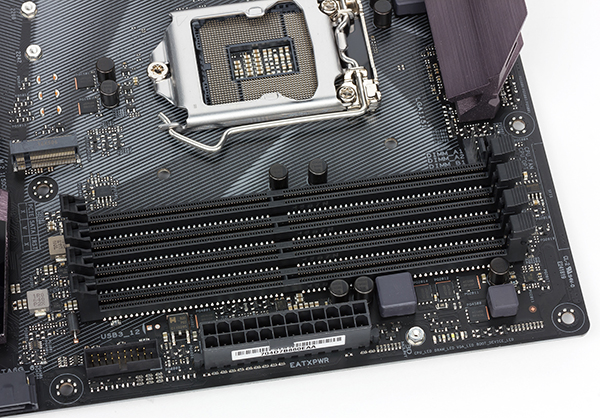 Слоты расширения
Для установки видеокарт, плат расширения и накопителей на плате Asus Strix B250F Gaming имеется один слот PCI Express 3.0 x16, один слот PCI Express 3.0 x4 (в форм-факторе PCI Express x16), четыре слота PCI Express 3.0 x1 и два разъема M.2.
Слот PCI Express 3.0 x16 реализован с использованием 16 линий PCIe 3.0 процессора. Напомним, что чипсет Intel B250 поддерживает группировку 16 процессорных линий PCIe 3.0 только в один порт PCI Express 3.0 x16.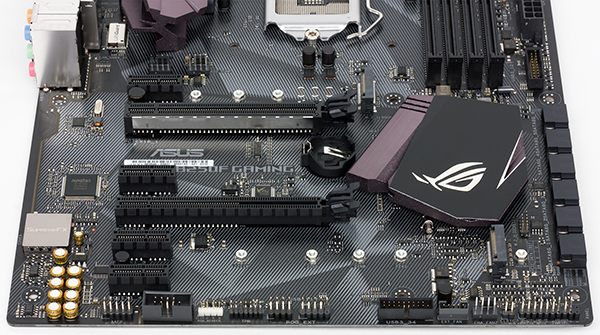 Еще один слот в форм-факторе PCI Express x16 реализован с использованием четырех чипсетных портов PCIe 3.0, то есть, по-сути, это слот PCI Express 3.0 x4.
Четыре слота PCI Express 3.0 x1 также реализованы с использованием чипсетных портов PCIe 3.0.
Из двух разъемов M.2 один разъем (M.2_1) позволяет устанавливать накопители типоразмера 2242/2260/2280 и поддерживает только SATA-устройства. Для его реализации используется один порт SATA 6 Гбит/с.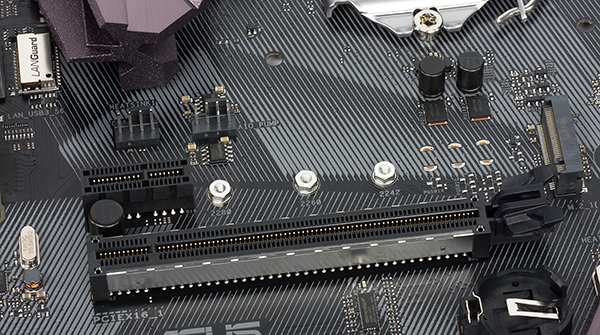 Второй разъем M.2 (M.2_2) позволяет устанавливать накопители типоразмера 2242/2260/2280/22110 и поддерживает только PCIe-устройства (PCIe 3.0 x4). Для его реализации используется четыре чипсетных порта PCIe 3.0.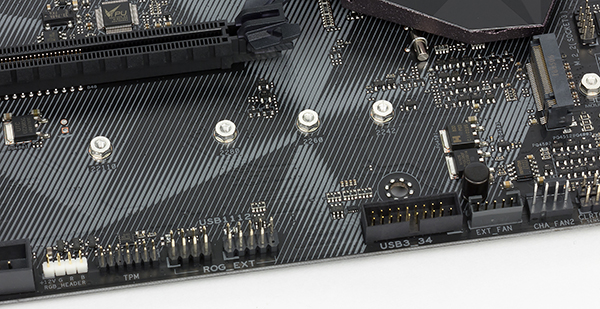 Видеоразъемы
Поскольку процессоры Kaby Lake и Skylake имеют интегрированное графическое ядро, для подключения монитора на задней панели платы имеются видеовыходы DVI-D, HDMI и DisplayPort. То есть видеовыходы есть на все случаи жизни (D-Sub мы не считаем, поскольку он уже умер).

SATA-порты
Для подключения накопителей или оптических приводов на плате предусмотрено шесть портов SATA 6 Гбит/с, которые реализованы на базе интегрированного в чипсет Intel B250 контроллера. Эти порты не поддерживают возможность создания RAID-массивов, что связано с ограничением чипсета.

USB-разъемы
Для подключения всевозможных периферийных устройств на плате предусмотрено шесть портов USB 3.0, шесть портов USB 2.0 и два порта USB 3.1.
Порты USB 2.0 и USB 3.0 реализованы на базе чипсета Intel B250 (чипсет Intel B250 поддерживает до 12 портов USB, из которых 6 портов могут быть портами USB 3.0). Четыре порта USB 2.0 и два порта USB 3.0 вынесены на заднюю панель платы. Для подключения еще двух портов USB 2.0 и четырех портов USB 3.0 на плате есть соответствующие разъемы (один разъем для портов USB 2.0 и два разъема для портов USB 3.0).
Два порта USB 3.1 реализованы через контроллер ASMedia ASM2142, подключенный к чипсету по двум линиям PCIe 3.0. Эти порты выведены на заднюю панель платы, причем один порт имеет разъем Type-A, а второй — разъем Type-C.
Сетевой интерфейс
Для подключения к сети на плате Asus Strix B250F Gaming имеется гигабитный сетевой интерфейс на базе PHY-контроллера (контроллер физического уровня) Intel i219-V (используется контроллер MAC-уровня, интегрированный в чипсет). Этот контроллер задействуют для подключения чипсетный порт PCIe.
Как это работает
Напомним, что чипсет Intel B250 имеет 25 высокоскоростных портов ввода/вывода (HSIO), в качестве которых могут быть порты PCIe 3.0, USB 3.0 и SATA 6 Гбит/с. (в чипсете Intel Z270 30 HSIO-портов). Это 6 портов USB 3.0, 12 портов PCIe и 6 портов SATA (еще один HSIO-порт закреплен за сетевым контроллером физического уровня). Причем общее количество портов USB (USB 3.0 + USB 2.0) не должно быть больше 12.
А теперь посмотрим, как все это реализовано в варианте платы Asus Strix B250F Gaming.
С портами USB 3.0 и общим количеством портов USB все просто — их ровно столько, сколько поддерживает чипсет.
С портами SATA тоже все просто. Один (первый) порт SATA разделяется с разъемом M.2_1, который поддерживает только SATA-устройства. И всего получаем ровно шесть SATA-портов, то есть ровно столько, сколько поддерживает чипсет.
А вот с портами PCIe немного сложнее. Для разъема M.2 с поддержкой только PCIe-устройств требуется 4 чипсетных порта PCIe 3.0. Кроме того, четыре слота PCI Express 3.0 x1, один слот PCI Express 3.0 x4, гигабитный сетевой контроллер и контроллер USB 3.1 — это еще 11 портов PCIe. В результате получаем, что требуется 15 чипсетных портов PCIe, в то время как в чипсете их только 12. Проблема нехватки портов PCIe 3.0 решается следующим образом: слот PCI Express 3.0 x4 разделяется с двумя слотами PCI Express 3.0 x1. Если задействуются слоты PCI Express 3.0 x1, то слот PCI Express 3.0 x4 будет доступен только в режиме x2. Если же слот PCI Express 3.0 x4 работает в режиме x4, то два разделяемых с ним слота PCI Express 3.0 x1 будут недоступны. В результате на слот PCI Express 3.0 x4 и два слота PCI Express 3.0 x1 в совокупности требуется только четыре чипсетных порта PCIe 3.0.
Режим работы слота PCI Express 3.0 x4 можно задать в настройках UEFI BIOS.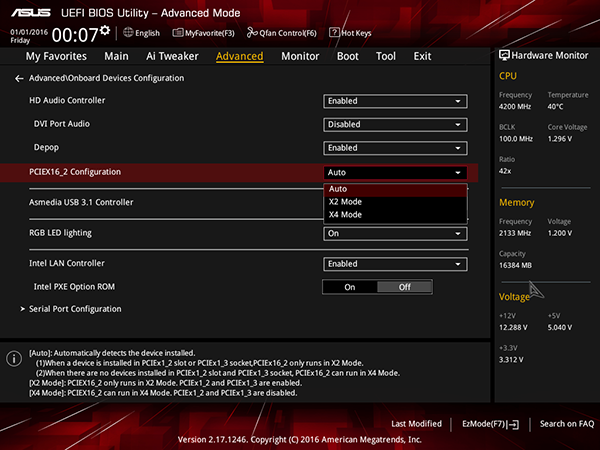 Остается понять, где взять еще один порт PCIe, поскольку с учетом указанного разделения потребуется всего 13 портов PCIe. Но здесь все просто. Дело в том, что в чипсете Intel B250 действительно может быть не более 12 портов PCIe, но есть еще один отдельный порт, который зарезервирован для подключения сетевого контроллера физического уровня. Именно к этому порту и подключен PHY-контроллер Intel i219-V. В результате получаем, что используется ровно 12 чипсетных портов PCIe и один выделенный для PHY-контроллера порт. А общее количество портов HSIO составляет ровно 25.
Блок-схема платы Asus Strix B250F Gaming показана на рисунке.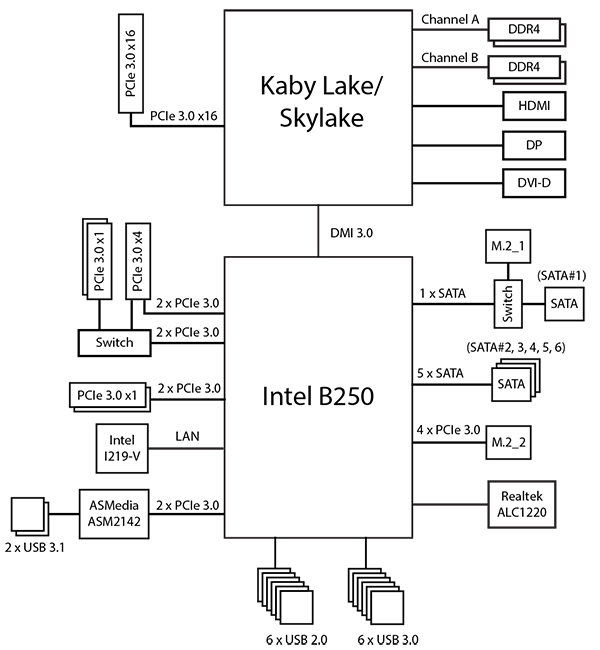 Дополнительные особенности
Как и у любой платы семейства Asus ROG, у Asus Strix B250F Gaming есть множество дополнительных особенностей. Конечно, у Asus Strix B250F Gaming их не так много, как, к примеру, у топовой платы Asus Maximus IX Formula, но все же они есть.
Каких-либо кнопок и переключателей на плате не предусмотрено вообще. Нет ни индикатора POST-кодов, ни традиционной кнопки сброса настроек BIOS (на плате без возможности разгона процессора такая кнопка и не нужна), ни даже кнопки MemOK! Есть лишь перемычка CLRTC для сброса настроек BIOS.
Как и у большинства плат семейства Asus ROG, здесь есть специальный разъем ROG Extension, который предназначен для подключения различных ROG-аксессуаров (приобретаются отдельно).
Имеется и специальный разъем Fan Extension, предназначенный для подключения платы (в комплект не входит), к которой можно подключить несколько дополнительных вентиляторов и термодатчиков.
Кроме того, есть двухконтактный разъем для подключения термодатчика (сам датчик в комплект не входит).
Есть на плате и разъем RGB Strip, предназначенный для подключения светодиодной ленты. Сама светодиодная лента, конечно же, в комплект не входит, но имеется кабель-переходник для ее подключения.
Кроме того, с обратной стороны платы, по переднему краю, расположено 12 RGB-светодиодов подсветки. Цвет и схему свечения можно настроить с использованием соответствующей утилиты, входящей в комплект.
Также, стоит отметить наличие четырех светодиодных индикаторов (они расположены рядом друг с другом), которые позволяют производить диагностику системы в ходе загрузки. Это индикаторы CPU, DRAM, VGA и Boot. Если система не грузится, то по индикаторам можно понять, в чем проблема.
Система питания
Плата Asus Strix B250F Gaming имеет 24-контактный и 8-контактный разъемы для подключения блока питания.
Регулятор напряжения питания процессора 9-канальный и построен на базе PWM-контроллера Digi+ VRM c маркировкой ASP1400. Сами каналы питания построены с использованием MOSFET-транзисторов 4C09B и 4С06B компании On Semiconductor.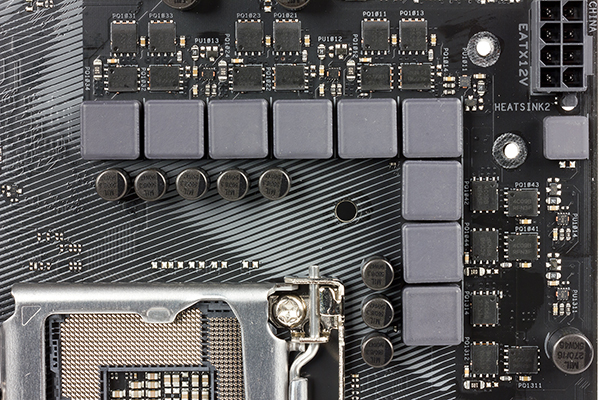 Система охлаждения
Система охлаждения платы Asus Strix B250F Gaming состоит из трех радиаторов. Два радиатора расположены по двум смежным сторонам процессорного разъема и отводят тепло от MOSFET-транзисторов. Еще один радиатор установлен на чипсете.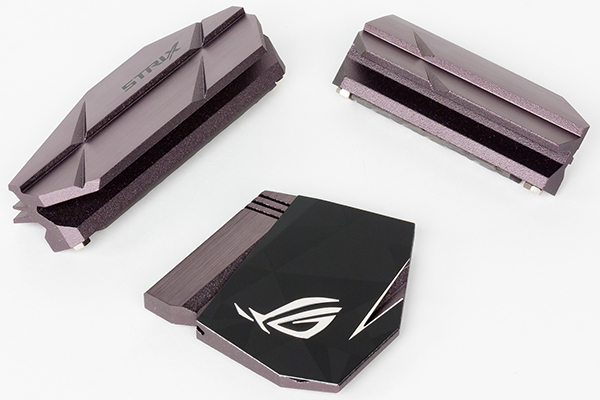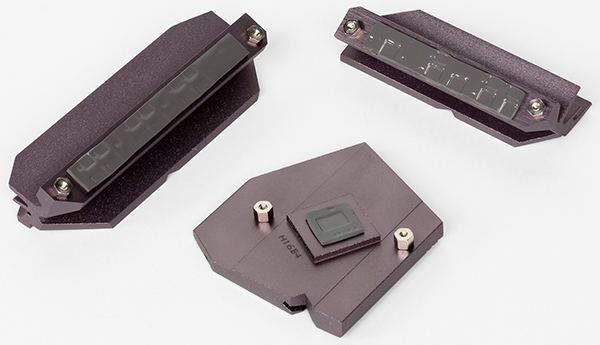 Помимо этого на плате имеется два четырехконтактных разъема для подключения вентиляторов кулера процессора, два четырехконтактных разъема для подключения корпусных вентиляторов, один четырехконтактный разъем для подключения помпы водяного охлаждения и, как уже отмечалось, специальный разъем Extension Fan, позволяющий подсоединить опциональную плату, к которой подключаются дополнительные вентиляторы и термодатчики.
Аудиоподсистема
Аудиоподсистема платы Asus Strix B250F Gaming имеет традиционное для плат Asus маркетинговое название SupremeFX. Как и у всех новых плат семейства Asus ROG, основана аудиоподсистема на новом HDA-аудиокодеке Realtek ALC1220, который закрыт металлических кожухом. Все элементы аудиотракта изолированы на уровне слоев PCB от прочих компонентов платы и выделены в отдельную зону.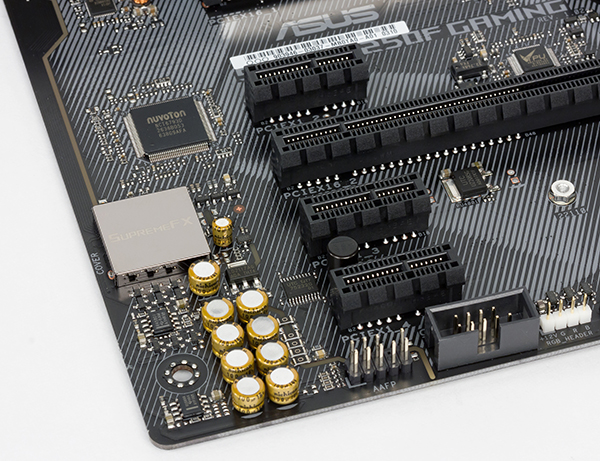 На задней панели платы предусмотрено пять аудиоразъемов типа миниджек (3,5 мм) и один оптический разъем S/PDIF (выход).
ROG STRIX B250F GAMING
Features
Tech Specs
Awards
Gallery
Support
3D Printing
ROG STRIX B250F GAMING
Intel LGA-1151 ATX B250 gaming motherboard with Aura Sync RGB LED, Intel Gigabit LAN, DDR4 2400MHz, dual M.2, SATA 6Gb/s, and USB 3.1 Type-C
The successor to Pro Gaming motherboards
Aura Sync RGB LED lighting technology for ultimate customizability
3D-printing-friendly design — Dedicated 3D mounts makes fitting 3D-printed parts easy
ROG SupremeFX audio — Renowned audio performance with dual headphone amplifiers, leveled-up Sonic Studio III, and Sonic Radar III
Gaming networking — Best-in-class Intel® Gigabit Ethernet, LANGuard, and GameFirst technology
Next-gen connectivity — Dual onboard M.2 slots for up to 32Gbps PCIe bandwidth and USB 3.1 Type-C connector
Patent-pending ASUS SafeSlot for enhanced PCIe retention and shearing resistance
GECID.com: Optimal Ratio
Excellent ROG SupremeFX audio subsystem based on Realtek ALC S1220A flagship codec, stylish design, LED-lighting, rich set of ports and interfaces, as well as increased power subsystem and effective cooling system
The Asus Strix B250F Gaming has an ATX size, an unbeatable component quality and brutal esthetics.
A fusão entre as marcas ROG e STRIX trouxe mais um produto para o mercado, a ASUS ROG STRIX B250F Gaming, que vem para entrar no lugar da linha Pro Gaming. E assim como boa parte das placas para a sétima geração de processadores Intel codinome Kabylake, as placas estão recebendo atualizações estéticas e alguns recursos extras, graças a melhorias do chipset, como USB 3.1 e dual M.2.
Thanks to the convenient interface, all functions are easily available in one package.
This board has everything the modern design should have
Gloco Gaming Gold Seal
«Let's SHED SOME LIGHT on this awesome new tech from ASUS. Featuring the B250F Motherboard, The MG278Q Gaming monitor, The Deepcool GeNome Casing, and the Strix rx 480. We'll show you how the Aura Sync technology works with the new B250f Motherboard and how you can customize it to your preferences.»
Full performance with Intel Kabelake CPU, Load up full function for gaming.
Full load gaming function and Aura sync ready.
advantages: — The quality of the built components — Affordable price compare of 270 motherboards — Rog «pedigree» — SupremeFX audio section
If you are looking for a motherboard with good quality, modern style, with luxury design and also good price, we recommending ASUS ROG STRIX B250F GAMING !
ROG Strix B250 motherboards continue the proud legacy of the Pro Gaming series with acclaimed ROG innovations. ROG Strix B250F Gaming motherboards combine bold aesthetics with premier performance and incredible audio to deliver unrivaled gaming experiences and style. Support for the latest Intel processors and technologies, plus exclusive ROG innovations, take performance to the next level to give you the edge against opponents. ROG Strix B250F charges every movement of every game with thrilling energy and equips you with epic speed and agility. Join the Republic with ROG Strix B250F Gaming and dominate your game!
Gaming Aesthetics: Aura Sync technology plus angular heatsink
Stylish PCB: Matte black color with striking, patterned design
ROG Badge: Reflective polychrome finish stands out against diamond-cut metal nameplate
Lighting
Aura lighting control
Create your own custom LED lighting effects with the intuitive Aura software. Cast a stunning multi-color glow across your build with the powerful RGB LEDs built in to ROG Strix B250F Gaming, or attach a separate RGB strip using the onboard 4-pin header. Fire up Aura and enjoy the creative freedom of twelve different lighting themes.
StaticAlways on
BreathingFades in and out
StrobingFlashes on and off
Color cycleFades between the colors of the rain-bow
Music effectPulses to the beat of your music
CPU TemperatureChanges color with CPU load
RainbowA rolling multi-color glow
CometA stream of light with a tail
Flash & dashSingle/multi-color stepped flashes
WaveAn undulating display in single or multi-color
Glowing Yo YoA rebounding elastic beam
Starry NightA display that mimics the nighttime sky
*The Aura RGB-strip header supports standard 5050 RGB LED strips with a maximum power rating of 2A (12V). For maximum brightness, strip length should not exceed 2m.
* One extension cable is included. RGB LED strips are sold separately.
Outshine the competition
ASUS Aura Sync RGB LED technology makes ROG Strix B250F Gaming the control hub for your illumination ambitions — so it's easy to synchronize incredible lighting effects between compatible components, including RGB LED strips, graphics cards, keyboards and even mice! Change all LEDs in unison or employ dynamic modes to flow the illumination effects smoothly across all synchronized devices.
*Visit the ASUS Aura microsite to learn more about Aura Sync.
3d Printing Friendly
Make It Your Own
ASUS is the first motherboard manufacturer to support 3D printing, making it easy to customize your motherboard's appearance and improve system performance with a range of printable parts.
Cable Cover
Custom Nameplate
M.2 Fan Holder
IO cover
Exclusive 3D Mount For Easy Installation
Dedicated 3D Mounts on the motherboard makes fitting 3D-printed parts easy. Using the same screws as M.2 drives and standard motherboard mounting holes, you can easily add nameplates, cable covers, or an M.2 fan holder.
*Products with the 3D Printing Friendly logo feature the specialized 3D Mount and are also bundled with an extra 3D mount kit.
3D-printable accessories
As system parts are visible in custom PC builds, make yours stand out from the competition with 3D-printed accessories.
2-Way SLI HB bridge cover
Clip the cover onto the PCB SLI HB bridge to add style to your build. Multiple form factors — eATX, ATX and mATX — are available.
Fan grill
Add a little extra style to your build.
Cable Combs
Keep cables organized with the multi-connector design. 3D design files are available for 24-pin, 8-pin, 8 + 6-pin, 6-pin and 4-pin PSU connectors.
ROG FONTS
Use ROG font files to print letters — then fully customize your build by adding your name or any other word or phrase!
ROG KEYCHAIN
Print a 3D keychain and show your ROG passion to the world!
Guide to Start Printing
download
Select the 3D source files you want to download.
Personalize
Adjust size or shape, add text or change other attributes.
Print
Use your own printer, or visit a local vendor or ASUS store with Shapeways.
Setup
Easily assemble and fit your 3D-printed parts using M.2 nuts or existing case mounts.
AUDIO
SupremeFX
Shielded audio, superior sound
ROG Strix's SupremeFX audio technology has levelled up, delivering an exceptional 113dB signal-to-noise ratio on the line-in connection for best-ever recording quality — and 120dB on line-out for crystal-clear sound! We've also added a low-dropout regulator for cleaner power delivery to the SupremeFX S1220A codec, plus Texas Instruments® RC4580 and OPA1688 op-amps for high gain with low distortion. It all adds up to audio that envelops you as never before!
Effective shielding preserves the integrity of audio signals for the best quality.
B. Dual Op Amplifiers
With two op-amps onboard you're able to pump exceptional audio to your favorite cans, with 32-600Ω-headphone impedance for great flexibility.
C. Premium Nichicon™ audio capacitors
Fine-quality Japanese-made components that produce a warmer, natural sound with exceptional clarity and fidelity.
D. Audio line shielding
Blocks electromagnetic interference from the motherboard or add-ons to provide cleaner audio.
Sonic Studio III
ROG Strix's Sonic Studio III audio-effects station has an intelligent routing feature made for streaming. The new routing feature ports streams to different outputs giving you full control over who hears what. With Sonic Studio III, you now can share your exciting in-game moments without worrying about frivolous DCMA takedown requests. In addition to that, Sonic Studio III also comes with app-level preferences for instant audio profiles, and improved noise filtering for conversations with total clarity!
Easily assign different audio streams to different outputs, such as browser audio to headphones and game audio to speakers.
music
players
games
voip
app
video
players
music
players
games
voip
app
video
players
Easily assign different audio streams to different outputs, such as browser audio to headphones and game audio to speakers.
Apply customized audio settings to different applications, so everything you do is perfectly tuned to the way you want to listen.
Automatically detects and eliminates unwanted background noises, ensuring that your communications are loud and clear.
Scan and detect to dominate
Sonic Radar III
We've given Sonic Radar III an overhaul, evolving the audio engine to process sounds more accurately than ever, ensuring you're always aware of what's going on around you — and we've even added an onscreen arrow to help you pinpoint the enemy's position instantly! See the origin of key in-game sounds and hone your enemy-pinpointing skills. Plus the new audio boost feature provides filters that let you hear even the faintest sounds, so you can become the hunter, not the hunted!
Improved Audio Algorithm
3D Engine
Audio Boost
Audio Radar
performance
All-round
energy efficiency
Advanced
fan controls
Precise Digital
Power Control
Game faster
rank higher
Instant CPU performance boost
Crank up your PC instantly with the ASUS AI Suite 3 utility! The TurboV Processing Unit offers precise voltage control and advanced monitoring for the CPU and the graphics card, enabling great freedom to adjust CPU frequencies and ratios for optimized performance and for exploiting the potential out of your graphics card*
All-round energy efficiency
With the Energy Processing Unit (EPU) you'll enjoy real-time, system-wide power savings — for gaming kicks that won't cost the earth! EPU automatically detects and adjusts power consumption according to your rig's needs, so you save money without compromising on thrills. EPU will also reduce CPU wattage to a set level and deliver even more savings with Away mode, creating an extreme energy-saving scenario that shuts down unused extra I/O controllers and reduces the power level of the graphics card. That means full power for your gameplay — and then total energy efficiency when you step away!
Cooler by design
Play quieter and cooler with advanced fan and water-pump controls for the ultimate in undisturbed gaming. With onboard thermal sensors and hardware-level 4-pin/3-pin PWM/DC mode detection, Fan Xpert 4 makes sure every fan achieves the best balance of high cooling performance and low noise — so you enjoy all the performance you demand with none of the racket!
Fan Xpert 4
RWhen the CPU in the water-cooled state, GPU is the key factor for case's environmental temperature. The new fan control function can set GPU temperature as a fan tuning source, more accurate and effective to reduce the system temperature!
Precise digital power control
To go faster than fast you need ultra-accurate power control — so ROG Strix B250F Gaming is kitted out with ASUS Digi+ Power Control for enhanced system stability and superb power efficiency. Digi+ Power Control is the industry's leading digital power controller and it's fully compliant with Intel's IMVP8 specifications, for smoother, safer power.
Game faster, rank higher
ASUS Turbo App is the intuitive tuning panel to boost everything to secure your victory in your favorite titles! Prioritize data across your network and optimize the audio settings for fantastically clear audio and in-game-chat. History is written by the victors, so don't go to war without Turbo App.
RAMCACHE II
SPEED YOUR GAME LOADS
Uniquely intelligent technology that effectively caches an entire storage device so that favorite games and apps launch at breakneck speeds, getting to work the moment it's activated. RAMCache II turns milliseconds into microseconds to boost game-load times — and of course it's compatible with the latest NVM Express storage options!
Automatically caches all your storage devices at the same time for optimal use of your system's caching resources.
AWARD-WINNING BIOS DESIGN
The smoothest, slickest mouse-controlled graphical BIOS has been improved to make it even more appealing. Whether you're a PC novice or a seasoned overclocker, the EZ and Advanced Modes help you find your way. In EZ Mode you can get set up very quickly, applying the date and time, fan profiles and Intel Extreme Memory Profile (XMP) memory profiles. Switch to Advanced Mode to set up favorites and shortcuts, record and review recent changes with Last Modified or make notes in Quick Notes.
CrashFree BIOS 3
Never again worry about corrupted BIOS, as CrashFree BIOS 3 lets you restore a PC to working order — even when it won't boot!
Update the latest BIOS via the internet or from within the system BIOS.
networking
Intel Gigabit Ethernet
More throughput and less CPU usage for great gaming experiences
ROG Strix B250F Gaming features the very latest Intel Ethernet (I219-V) for faster, smoother gaming. Intel's LAN has the serious double advantage of reducing CPU overhead while offering exceptionally high TCP and UDP throughput. This significantly reduces the processor's workload, so there's more power for gaming.
LOWER CPU WORKLOAD
HIGH TCP & UDP THROUGHPUT
LANGuard
Pumped-up throughput, best surge protection
LANGuard means safer, more reliable connections for your battles! Advanced signal-coupling technology and premium surface-mounting processes join forces to protect your ROG Strix B250F Gaming's connection and deliver pumped-up throughput, plus electrostatically guarded and surge-protected components (ESD Guards) for 1.9x-greater tolerance to static electricity and 2.5x-greater protection (up to 15KV) against surges!
GAMEFIRST IV
TEAM UP TO BANISH LAG
GameFirst IV optimizes network traffic for faster, lag-free online gaming — and now we've added Multi-Gate Teaming to team all your networks for maximum bandwidth and the smoothest-ever gameplay. You'll also enjoy all-new Intelligent mode, which automatically compiles a database by parsing new app data to ensure that every game is optimized for the best performance.
connectivity
Dual M.2
Let your SSD scream at speeds of up to 32Gbps
ROG Strix B250F Gaming features dual M.2 slots with Socket 3 and M-key support. One slot supports PCIe 3.0 (2242/2260/2280/22110) for NVMe, and the other slot supports SATA. Together, they give you the fastest and most-flexible M.2 interface available.
USB 3.1 type A+C
Ultimate 10Gbps data speeds
With one USB 3.1 Type-A port and one reversible USB 3.1 Type-C port, you'll experience data-transfer speeds of up to 10Gbps — twice as fast USB 3.0. USB 3.1 is also completely backward-compatible with existing USB devices — so you'll be set for breakneck USB 3.1 speeds with every connection. And as an added bonus, ASUS-exclusive USB 3.1 Boost technology automatically accelerates USB 3.1 performance even further.
gamer's
guardian
SafeSlot
ASUS SafeSlot is the PCIe slot reinvented. Featuring a new single-step, insert-molding manufacturing process that integrates fortifying metal and additional solder points, SafeSlot provides stronger PCIe device retention and greater shearing resistance.
Q-LEDs
Onboard LEDs to Indicate the power status, and problems with the CPU, memory, graphics card or boot device for quick diagnosis.
Digi+ VRM
The Digi+ VRM voltage-regulator module (VRM) is one of the finest in the industry, ensuring ultra-smooth and ultra-clean power delivery to the CPU!
DRAM overcurrent protection
Onboard resettable fuses protect all connection ports and DRAM modules against overcurrent and short-circuit damage, extending your motherboard's life.
Q-shield
Protect your hands from nicks and cuts.
Q-slot
design makes it easy to swap or secure your graphics card.
Q-DIMM
clips make handling memory modules a cinch.
ROG Strix
Gives you more
Overwolf
Stay in the game
Overwolf is a clever, unobtrusive overlay that lets you browse the internet, email, IM, and stream or record gameplay – all while you're in the game. Color-matched ROG skins that display your status as a member of an elite pack are also available for download from the Overwolf App Store.
In-game dock — 5 customizable apps
In-game calling — 0 missed calls during gaming
Multi-IM support — 5+ clients in a single interface
5 customizable apps
0 missed calls during gaming
5+ clients in a single interface
ROG Clone Drive
Image your drives, the smart way
All-new ROG Clone Drive is the smart, convenient cloning solution that quickly and efficiently replicates hard drives or SSDs. Clone Drive is so smart that it can clone one drive to two target drives at the same time, or image any file from your disk at breakneck speeds.
Beyond VR ready
ROG Strix B250F Gaming isn't just VR Ready — it goes way beyond! The ASUS ROG Beyond VR Ready marque means that ROG Strix B250F Gaming has been tested with loads of class-leading components to ensure that your productivity, gaming and entertainment needs are tuned for maximum performance after you've taken off the headset. ASUS Beyond VR Ready opens up a new way to configure and build your dream system with total confidence.
Learn more about ASUS Beyond VR Ready
The power of Intel
Intel® B250 chipset
The Intel® B250 is a single-chipset design that supports 7th & 6th-generation Intel LGA1151 Core™ i7 / Core i5 / Core i3 / Pentium® / Celeron® processors. It provides improved performance by utilizing serial point-to-point links, allowing increased bandwidth and stability. It natively supports up to six USB 3.0 ports, six SATA 6Gbit/s ports, and PCIe 3.0 lane speed support for faster data retrieval. Intel® B250 chipset also supports iGPU functionality, so you'll enjoy the very latest Intel integrated graphics performance.
Ready for 7th Generation and 6th Generation Intel LGA1151 Core i7/Core i5/Core i3/Pentium/Celeron processors
The ROG Strix B250F Gaming motherboard supports 7th Generation and 6th Generation Intel Core™ i7/Core i5/Core i3/Pentium®/Celeron® processors in the LGA1151 package. Integrated graphics, memory and PCI Express controllers support onboard graphics output with dedicated chipsets, two-channel (4-DIMM) DDR4 memory and 16 PCI Express 3.0/2.0 lanes for great performance.
You may also like...